Advancing Georgia's Leaders
Advancing Georgia's Leaders in Agriculture and Forestry (AGL) educates, empowers, and connects today's professionals in agriculture, forestry, natural resources, and allied sectors to be dynamic industry leaders. Individuals within AGL become more effect spokespeople for their industries, establish strong allegiances across the state and nation, and further develop their leadership skills. AGL is designed as an 18-month program that includes an optional, six-day international experience. The in-state curriculum takes place in 18 days and is designed with over 90 interactive sessions that include: over 150 expert industry speakers, field experiences, personality assessments, and soft-skills training.
AGL aims to:
Educate individuals on the U.S. and international political, social and economic systems to be able to analyze and solve complex issues related to people, technology, agriculture and the environment and to create a basis for lifelong learning.
Empower leaders with the confidence necessary to become more effective advocates to ensure positive actions for Georgia's agriculture and natural resources industries.
Connect diverse groups of leaders across the state and nation to collaborate on issues impacting Georgia's agriculture and natural resources industries directly and indirectly.
Participants build professional capital while enhancing their leadership skills and deepening their understanding of political and agricultural systems along with emerging industry issues and trends. Curriculum and programmatic outlines for the upcoming class include a strong network of personal and professional development experiences along with an international component.
To apply, you must first be nominated. After nominations are received and reviewed, applications will be sent to qualifying nominees until the deadline of March 15, 2019.
AGL is a product of the College of Agricultural and Environmental Sciences and Warnell School of Forestry and Natural Resources at the University of Georgia.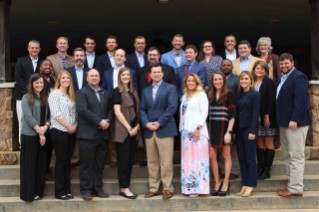 AGL Class of 2019
View the program from the AGL Class of 2019 Graduation & Alumni Business Meeting on March 2, 2019 at the Rock Ranch.