ALEC Summer 2018 Newsletter
---
Changing Perspectives
Malanie Lise Begay arrived to UGA's ALEC Department in the fall of 2016 seeking sound educational knowledge and scholarly training to bring back to her Diné tribe in New Mexico. "My tribal nation is in dire need of growth, the kind that is sustainable, and incorporates cultural teachings, and emphasizes the importance of environmental stewardship," said Begay. "We also happen to be an agricultural community with many ranchers and farmers. We have opportunity, we just need to learn how to harness it in a modern way that would allow us to benefit, [as well as] the environment." Begay is committed to pursuing her passion through the outdoors and to educating others about how we interact with and take care of it. Her love for tribal lands is evident as she explains the potential of discovering new species hidden inside the Navajo Nation of rolling grasslands, the low and highland deserts, alpine forests, plateaus and mountains that expand into Arizona, Utah, and New Mexico.
Begay will graduate with a Master of Agricultural and Environmental Education (MAEE) degree from ALEC this summer, and she hopes to use her education to assist with environmental issues and growing communities. "I [plan to] embark on a journey to change people's behavior towards each other and the environment," said Begay. "I feel not enough of us take our current environmental situation seriously enough. We hear all the time that things are changing, the weather is becoming more extreme, hurricanes, fires, drought, flooding, and yet most of us continue with business as usual. Since the start of the Industrial Revolution, we have become a state of excessiveness, we take much more than we need, and it is having detrimental effects. Sure, in more affluent communities you may not see or feel it, but that doesn't mean that it does not exist. I believe tribal communities are at the forefront. [For example,] there are those in Louisiana whose lands are underwater, as well as those in Alaska where permafrost is melting, and [some] desert communities where they have literally run out of water. These people are the first US environmental refugees, because of climate change. We are all a part of this, and we all need to make changes or sacrifices."

After watching her peers succeed and apply their work to the surrounding communities during their master's program, Begay desires to bring her educational work back to her tribal nation. She has developed her professional and personal aspiration through teaching, leadership, policy, and program development. The MAEE degree develops professionals to lead, teach and communicate about food, agriculture, the environment and social systems. ALEC is honored to continue to grow our relationships and connections with communities across the nation, and student's like Malanie Begay are Our Commitment at the University of Georgia.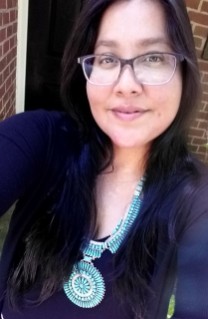 Malanie Lise Begay
---
Ag Dawg Day @ GVATA
GVATA Summer conference
Monday, July 9
Lake Lanier Islands, GA
If you are attending the Georgia Vocational Agriculture Teachers Association Conference, you will have a chance to meet ALEC's new department head, Dr. Leslie Edgar. The UGA CAES exhibit will have ag swag for alumni too!

---
Alumni Spotlight
Carlton Self, John Deere Territory Manager and former ALEC Master's student, is making a huge difference as he works with farmers in the southeast to integrate precision agriculture technologies. In a recent essay to the Young Alumni Achievement committee, Self reflected on his life aspirations and indicated that he would be a Georgia Dawg. "My mother's first words, after I was born and the doctor told her I was a boy, were "how 'bout them Dawgs?," said Self. "I like to think my parents knew I was going to attend the University of Georgia from the start, but I'm not sure they knew…"

Self had an early introduction to the field of agriculture. His grandfather was a farmer, and he would watch him bale hay and plow fields in his bright green John Deere tractor. Recognizing his early interests, Self's parents would take him to farm shows and tractor dealerships. Soon after, Self completed his bachelor's degree in political science, with a minor in agricultural economics at the University of Georgia.

"I didn't know at the time what a profound impact attending school in Athens would have on my life," said Self. "The memories I have of my time as a student are cherished deeply, and the stories grow and become more exaggerated with each re-telling. Running up Ag Hill in the rain to Dr. Bill Givan's farm management class, hearing the Kinchafoonee Cowboys for the first time at the Georgia Theater, and cooking a whole hog before a football game at the AGR house with 13 of my pledge brothers are times I'll never forget. Some of these same men were at my dad's funeral, stood with me when I got married, and have started businesses and families of their own. They turned into some of the finest people I've ever known and are advocates for agriculture, their communities, and industries."

Self knew he wanted to continue his passion through the College of Agricultural and Environmental Sciences (CAES) and went on to complete his Master of Agricultural Leadership degree in the ALEC Department in 2011. After graduation, he was offered a job with John Deere Waterloo Tractor Works and has applied his experiences and knowledge from his time in his master's program. Self travels all over the world talking about tractors and farming.

When faced with life's most challenging situations, Self pushes through. Last year, Self survived an accident that nearly left him paralyzed from the neck down and his positive attitude has carried him through. Positive, hardworking, talented alumni like Carlton Self are why the ALEC Department is successful. That's your commitment and that's ALEC's Commitment. Self recently appeared in a segment for the "Ranger Nick" show that aired in late April. View the episode!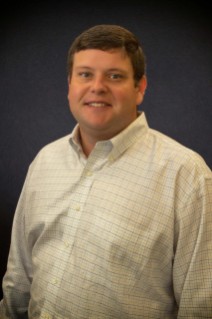 Carlton Self
---
Graduate Student Spotlight
Dwight Carlston is from Falcon Nest, a hidden community near the Chuska Mountains in New Mexico. Carlston is a member of the Water Flows Together clan, born to the Sage Brush Hill Clan of the Diné people. He completed his bachelor's degree in Environmental Science and Natural Resources at the Navajo Technical University. He was selected by the American Indian College Fund to participate in a documentary film, which highlighted Carlston's childhood, and how he was able to continue school despite many obstacles.

"My driving force to attending graduate school at UGA was seeing others who already had their bachelor's degree work towards earning their master's degree and that a master's is what employers are looking for," said Carlston.

He has also been motivated by his parents as they did not receive the opportunity to attend college. Carlston plans to work in tribal government and aspires to become the Navajo Nation's president. "UGA can help prepare me [to meet the] concerns of the Diné Nation's president to guide, lead, and look for new ideas to benefit the nation," said Carlston. He believes UGA could have targeted many other colleges and universities in the country, yet his local tribal university was selected. "To be one of the first members from my nation to attend UGA is a real honor, and the opportunity to study under Agricultural Leadership has been a journey," said Carlston.

Carlston enjoys running cross country and bull riding. He was a state champion in high school, named academic All American, and first team All-Conference. He went professional with bull riding in the Grand Canyon Professional Rodeo Association. When asked about his transition to UGA, Carlston said "there are so many different students, you see a different group of people every day. Being able to hang out with a group of guys that have different religions, backgrounds, and that don't speak the Navajo language has been different."

Dwight Carlston has a passion for helping his people and the environment. Once he understood that he could learn how to assist both with a degree from ALEC, he committed. Earning his graduate degree has come at the cost of moving to the eastern part of the U.S.—away from family, friends, his tribal nation, and homelands. His commitment to earn his graduate degree outside of his comfort zone highlights the dedication of all our graduate students. ALEC is committed to opening up opportunities for all of our students, That's Our Commitment!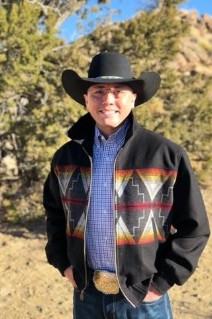 Dwight Carlston
---
Undergraduate Student Spotlight
Lucas Brock, a native of Bowdon, Ga., is currently a junior agricultural education major on the UGA Tifton Campus. Brock is a top student in his class and is extremely involved in leadership roles on campus. Whether he is helping to run the Collegiate FFA, Greenhouse Club, or recruiting new students to campus in his role as a UGA College of Agricultural and Environmental Sciences Ambassador, Brock is always looking for opportunities to give back to the University of Georgia. In his free time, Brock enjoys learning about new and innovative practices for his commercial cow-calf operation. His goal is to become more productive and profitable. His educational opportunities, paired with his passion to share information with others about agriculture, made him an excellent choice for a College Ambassador, and his tremendous contributions have been an important part of growing and promoting ALEC. Brock's passion and dedication is an example of Our Commitment to agriculture education and teaching. Dedicated students like Lucas Brock are one example why the ALEC Department is successful. We appreciate the tremendous support, dedication, and passion of our students, alumni, and supporters across Georgia and beyond.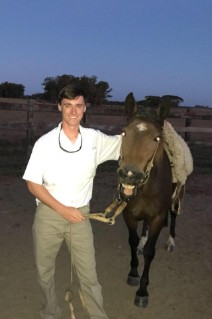 Lucas Brock
---
Faculty Spotlight
Dr. Abigail Borron, assistant professor in the ALEC Department, is the recipient of the 2018 Service-Learning Research Excellence Award from the Office of Service Learning, UGA. This award was based on a theoretical model she designed, known as the culture-centered approach pedagogical model, which moves students through a critical process of civic engagement and civic responsibility as an emerging professional in their field. This model was the basis by which she received a Top Paper Award in 2016 from the Association of Education in Journalism and Mass Communication. This award was based on a special research call titled Revitalizing the Bonds of Journalism, Citizenship and Democracy. She has also been awarded the UGA Public Service and Outreach (PSO) Fellowship twice (Fall 2017 and Fall 2018). Her project is in collaboration with J. W. Fanning Institute for Leadership and Development (UGA PSO Unit), focusing on the development of a scale that examines community development and vitality. She has acquired over $220,000 in grant dollars to support her work in engagement and communication research in the classroom and communities on issues such as food insecurity, food access, coalition building, and university engagement. To view more about Dr. Borron or other ALEC faculty, click here.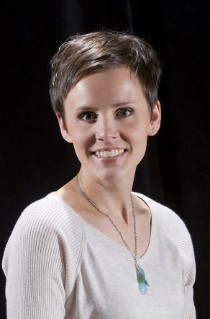 Abigail Borron
---
Photo Contest
ALEC Students and Alumni, we need your help! Do you have an awesome agricultural- or environmental-themed photo you would love to have showcased in the ALEC Four Towers Building? We are looking for amazing photos to display throughout the office building. Your photo could be viewed by all future students and alumni during their visit to Four Towers. If you are interested in sharing your photo, please upload it to this shared Google Drive by July 31. We look forward to seeing your work displayed in Four Towers!

---
Fuhrman @ TedxUGA
Dr. Nick Fuhrman will be promoted to Professor on July 1.
This spring he was recognized as a Scientist of the Week by UGA's Red and Black, and presented a TedxUGA Talk on his passion for teaching.
---
Navajo Technical University Collaboration
In April, four Navajo Technical University students visited the Athens UGA campus. Dr. Kay Kelsey has been working over the past few years to help develop an ongoing relationship with Navajo Technical University (NTU) to bring Diné students to UGA to help achieve their educational goals. UGA and ALEC have collaborated to bring these students to visit our campus through the New Approaches to Promote Diversity and Inclusion funding initiative. We welcomed four Navajo students, Derrick Lee, Sheena Allen, Gilbert Banally, and Derek Livingston. The students' had a busy two days meeting and talking with a variety of faculty and graduate students from ALEC, Horticulture, and College Administration.

According to NIFA (2015), from 2015-2020, 57,900 jobs will be available in the areas of food, agriculture, renewable natural resources, and environment for students with a bachelor's degree or higher. Connecting students from across the nation to our programs will assist in addressing the current needs and priorities of the U.S. Department of Agriculture. NIFA also indicated college graduates with expertise in food, agriculture, renewable natural resources, and the environment are essential to our ability to address the U.S. priorities of food security, sustainable energy, and environmental quality. Graduates in these professional specialties not only are expected to provide answers and leadership to meet these growing challenges in the United States, but they also must exert global leadership in providing sustainable food systems, adequate water resources, and renewable energy in a world of population growth and climate change.

ALEC was grateful for the opportunity to interact with and discuss educational goals with these four amazing students. That's Our Commitment! Together, UGA and NTU are committed to helping Diné, and all students, achieve their educational goals through undergraduate and graduate education, resulting in a partnership for progress.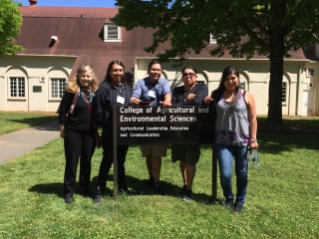 Partnership with Navajo Technical University (NTU) brings Diné students to UGA to help achieve their educational goals.
---
Impact Evaluation Unit @ UGA
The Impact Evaluation Unit (IEU) at University of Georgia was founded January 2018 to provide evaluation services to faculty seeking external funding, and to establish broader impacts of externally funded projects. The National Science Foundation defined broader impacts as projects that have "the potential to benefit society and contribute to the achievement of specific, desired societal outcomes." The IEU provides project directors with turn-key impact evaluation services. IEU serves faculty campus-wide. That's Our Commitment. In the IEU, evaluation specialists work with faculty beginning at the idea stage of project development and serve as team members to develop evaluation plans based on grant requirements, project goals, and objectives. Specific services include design and delivery of evaluation frameworks (theory of change, logic framework, indicators, monitoring plans, data collection and analysis), needs assessments, feasibility studies, impact assessments, process and outcome evaluations, concept mapping, evaluability assessments, meta-evaluations for funded projects, and routine reports to sponsors.

The Impact Evaluation Unit works closely with the Office for Proposal Enhancement. For more information, please contact IEU Director, Dr. Kay Kelsey, professor in ALEC, at kdk@uga.edu or (706) 247-2492 or visit the IEU website.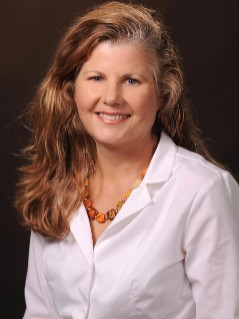 Kay Kelsey
---
Georgia Senate Bill 330
On April 27, ALEC undergraduates Emily Potter and Dalton Green made history at the 90th Georgia FFA Convention when Gov. Nathan Deal signed Senate Bill 330 during one of the general sessions. This action was a culminating process that began in late 2016. Emily shared her idea with Dalton, who had worked on the re-election campaign of state Sen. Jeff Mullis. The two of them presented the idea to Mullis in December 2016 and by the 2017 session of the Georgia Legislature they had a bill introduced. It did not pass that year, but with some modifications it was reintroduced by the Senate Agriculture Committee in 2018.

"This piece of legislation puts into statute what FFA really has been doing for a very long time," Deal said. "It puts it in a format where it can't be tampered with very easily without changing the law."

The bill sets up a pilot program to expand agricultural education into elementary schools. Currently, the FFA only has chapters at the middle school and high school levels, but SB 330 calls for a minimum of six elementary schools around the state to participate in the pilot program to determine whether and how an elementary agriculture education program could be implemented statewide.
The pilot is to begin with the 2019-2020 school year and will last three years, after which the DOE will report the results to the House and Senate Agriculture Committees.

SB 330, titled the Quality Basic Education Act, was sponsored by Senate Agriculture Committee Chairman John Wilkinson (R-Toccoa), with Jeff Mullis (R-Chickamauga), Larry Walker III (R-Perry), Ellis Black (R-Valdosta) and Dean Burke (R-Bainbridge) as cosponsors. It passed both the Senate and the House with unanimous votes.

The bill calls for agricultural education programs to be formatted according to the FFA's three-part model: 1. classroom instruction; 2. Hands-on learning opportunities and 3. Leadership and learning opportunities. The bill tasks the Georgia Department of Education (DOE) to develop curriculum and standards for the agricultural education program with input from ag education teachers. It also requires the Georgia DOE to assign regional ag education coordinators who are certified in agricultural education. Emily and Dalton will be working on forming a committee to guide the implementation of this act.
---
Faculty Awards & Recognitions
Dr. James C. Anderson, II was selected as a Public Service and Outreach (PSO) Fellow.
Dr. Abigail Borron earned the 2018 Service-Learning Research Excellence Award and was selected as a second year Public Service and Outreach (PSO) Fellow.
Dr. Nick Fuhrman will be promoted to Professor on July 1. He was recognized as a Scientist of the Week, and presented a Ted Talk on his passion for teaching.
Dr. Jessica Holt was selected to attend the 2018 UGA Active Learning Summer Institute and was selected for the 2018-19 Service-Learning Fellows program.
Dr. Maria Navarro was named a member of the College's Outstanding Teaching Faculty and was named an Association for International Agricultural and Extension Education (AIAEE) Fellow.
Dr. Eric Rubenstein and his research collaborators earned second runner-up for an oral abstract at the Association for International Agricultural and Extension Education (AIAEE) conference in Merida, Yucatan, Mexico.
Dr. Jason Peake was named an American Association for Agricultural Education (AAAE) Fellow.

---
New Hires
June 1, Dr. Alexa Lamm will join ALEC as an associate professor with tenure to serve as an Extension evaluation specialist.
July 1, Dr. Don Edgar will join ALEC as an associate professor with tenure in agricultural education.
July, Dr. Kevan Lamm will join ALEC as an assistant professor in agricultural leadership.